Happy Summer to All. Hope you are having a wonderful season so far. I am for sure – I'm just about to go out sailing with my husband…but a blogpost first before the sail!
Today I wanted to talk about how to prevent a lot of stress when you are selling (or listing) a home for sale. Of course I will be talking about the benefits of staging your home first! Preparing your house the right way will absolutely take the stress out of this very stressful time.
Here are some reasons why…
When people put their homes up for sale, most times they showcase their "stuff" rather than highlighting the special features of their homes (the views, the architecture, the hardwood flooring, the fireplace mantel). Consequently, buyers may remember these homes as "the home with too many figurines" or "the home with the dated wallpaper." When a stager comes in to help a seller prepare their home for market – they concentrate on making sure a potential buyer sees and remembers the special features of a home…and they help sellers downplay anything that may be a negative or a turnoff to a buyer.
Staging is not just a Service…
it's really all about the underlying benefits you get that are the important points about staging.
Staging Benefit #1: Happy and More Confident Sellers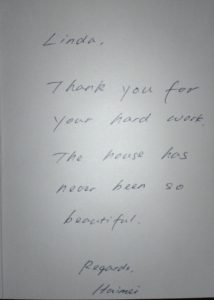 This lovely note I got from my Great Neck client tells me she is happy and she probably feels more secure about the look of her home as it goes on the market. I bet she is even more confident in her realtor too. And – a  happy, less stressed client won't be calling their realtor every day wondering why their house hasn't sold yet!
Staging Benefit #2: Saves Sellers Time and Will Probably Net Them a More Profitable Sale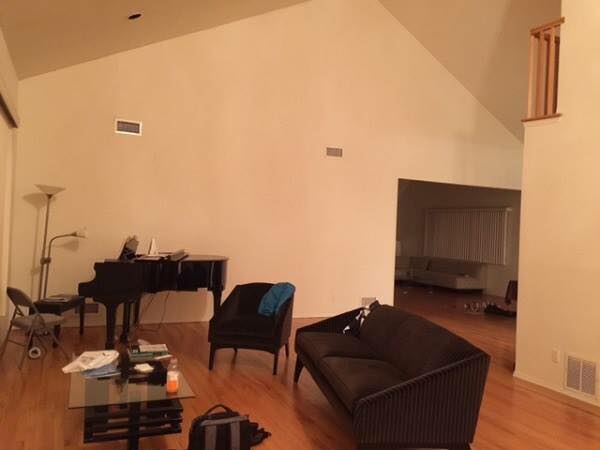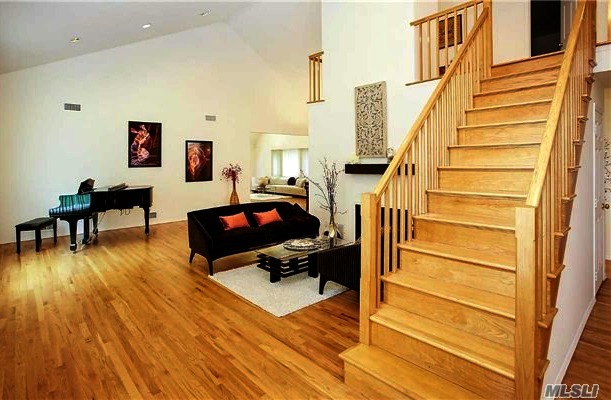 Staging Benefit #3: Staging Brings out the Best Attributes of a Home and Shows Buyers How to Live in a Space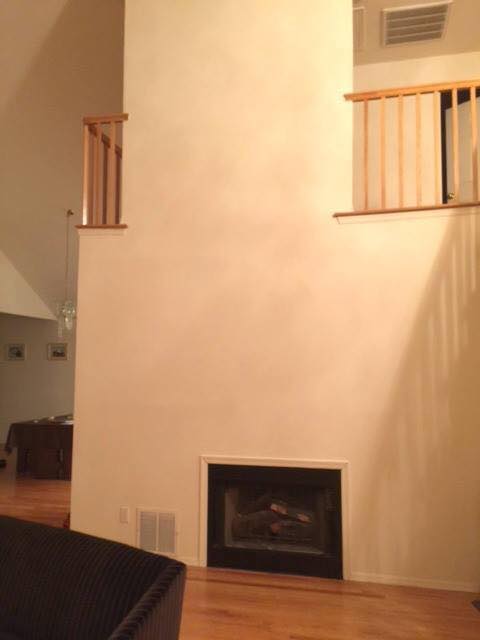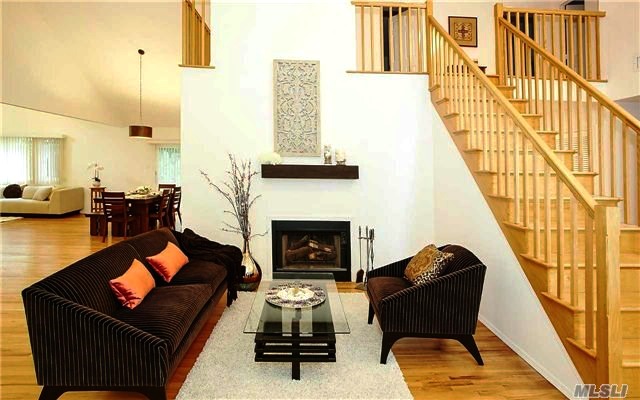 It was obvious to me that this client really didn't have a decorating bone in her body.  She had really great furniture (Roche Bobois – that's French for really darn expensive stuff!) and a beautiful baby grand piano. But, incorrectly placing these pieces and not establishing a focal point (ignoring it altogether actually) would not allow a buyer to see how to live in an open concept home like this.
I had my client purchase a mantel shelf, some pillows, artwork, area rugs (she bought the wrong size…but this is much better than "nothing") and I brought in additional accessories to warm up the room and to give some emphasis to an otherwise over-looked fireplace. What I was able to do in a day – my client never accomplished in all the years she was living in the home!
For info on this home contact listing agent: Xiujing Zhang (JJ); Keller Williams. tel. (860) 266-4349
Staging Benefit #4: It Gives the Home Warmth, Personality and Shows Buyers How They Can Decorate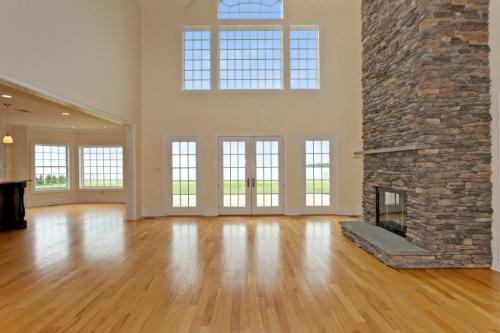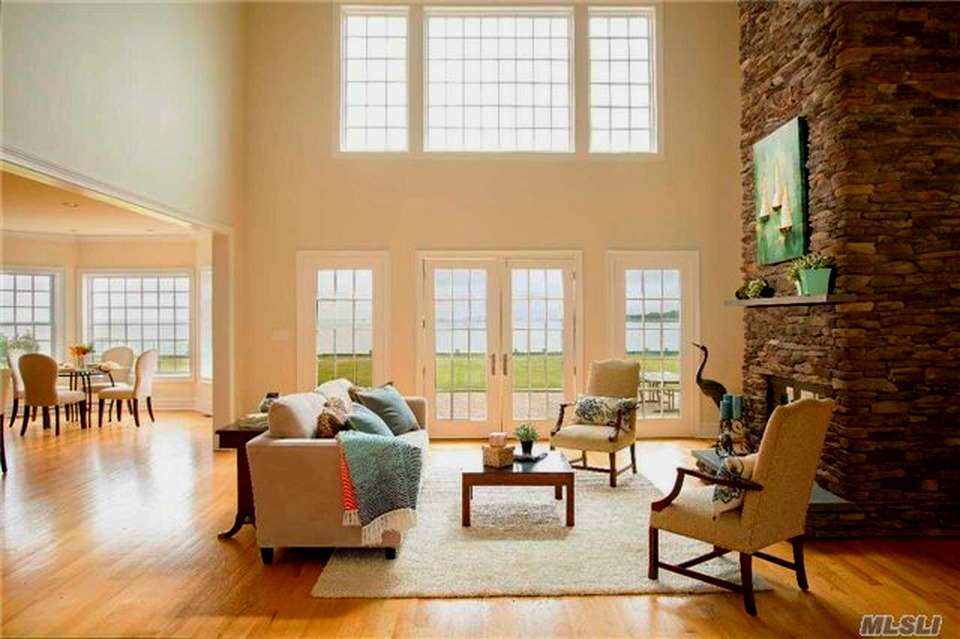 Above, a large vacant home can feel cold and impersonal. Tall walls and mantels can feel imposing and difficult to decorate; Open floor plans may confound many buyers. This beautiful waterfront home in The Moorings in East Islip needed some furnishings and some love…some warmth.
Staging Benefit #5: Can Show Buyers the Function of a Room (i.e. how to use Bonus, Extra Rooms in a Large, Vacant Home)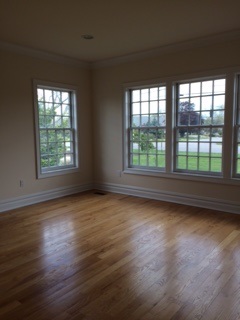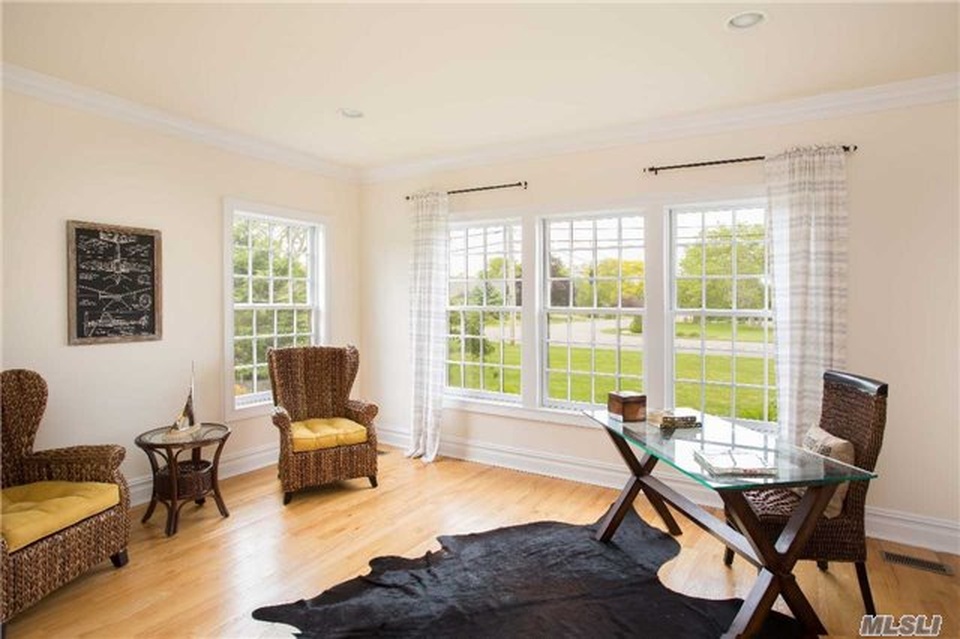 Bonus rooms not only confuse buyers but many sellers don't know what to do with them either – so many times these spaces remain undecorated or they become "storage" rooms. Staging helps to give a reason – a function to these rooms. I wish that my own home office looked like this!
For information on this home, contact listing Agents: Joe Guiliani (tel. 631 774-6551) and Mike Watts (tel. 516 398-4845) of Michael J Watts and Associates. 
If you would like to feel more confident about your home for sale, please give me a call at 631 793-1315. I know that I can help you!