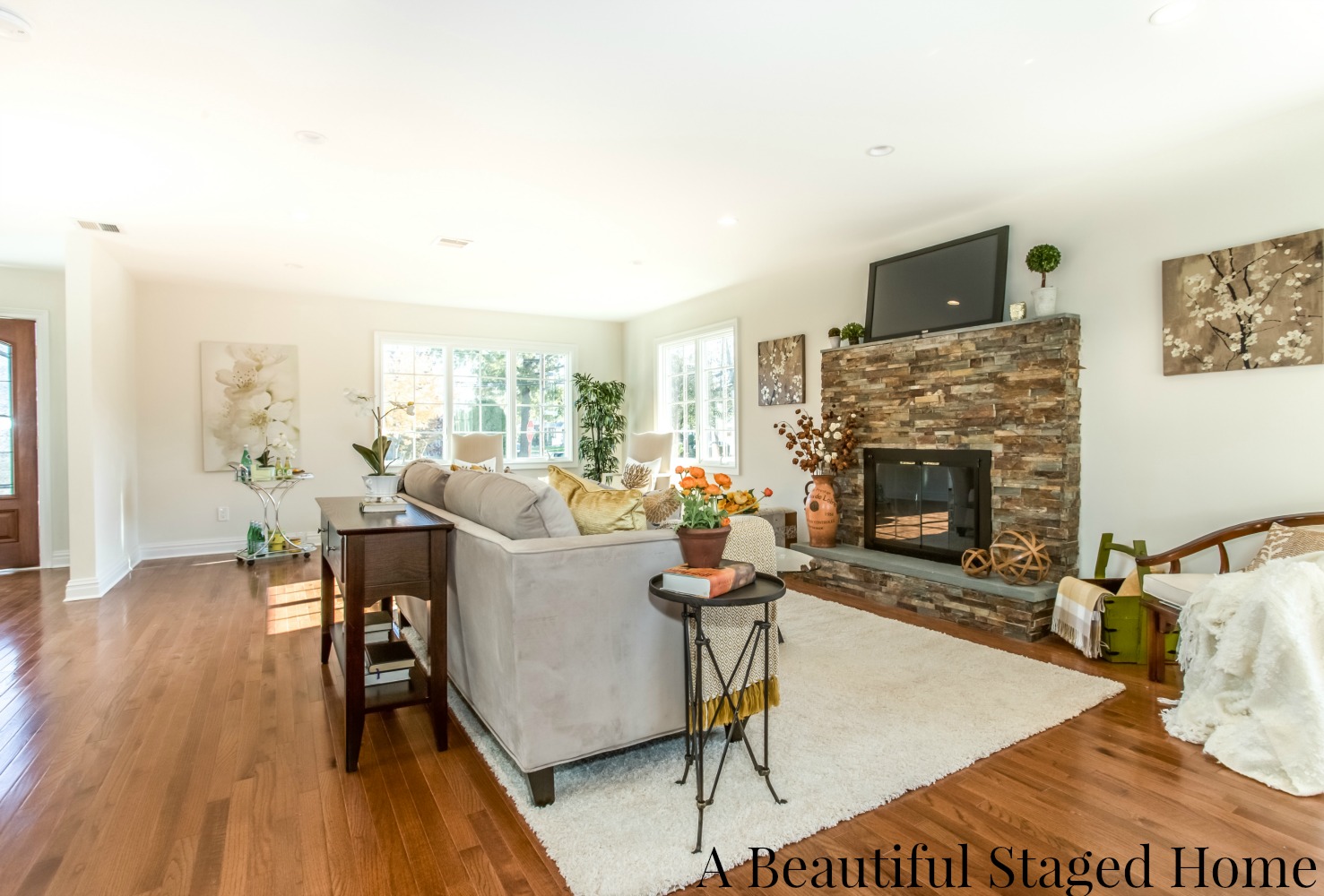 I can't tell you how many times I have recommended painting and updating fireplace mantels in homes when a client is selling. Especially red brick fireplaces – when I mention it should be painted or updated, I get this "We think you are crazy Linda" look on my clients' faces.
A vacant investor property that I staged (above) had the ugliest red brick fireplace – and someone (the investor or the investor's painter) had the ridiculous idea of painting it even redder – making it worse!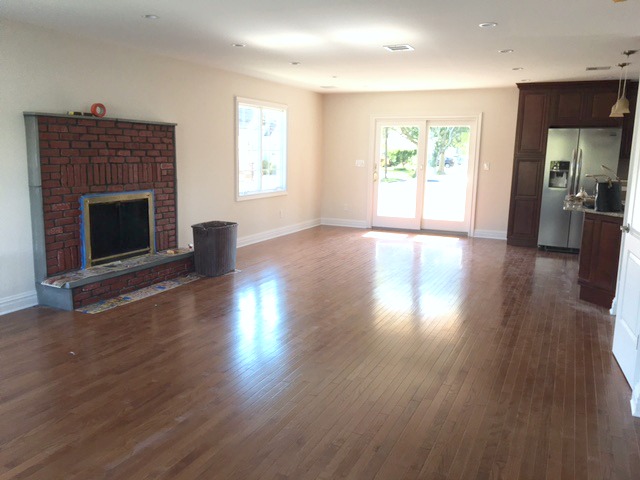 It's a little tough to tell in this pic – but the painter had painted over the red brick – and it wasn't even a good job. Painting it white or off white would have been better! Adding the bluestone to it made it even more ridiculous and keeping the ugly brassy doors kept it looking too 70s.
Here's an after shot, in the same angle. once the fireplace was redone and the furniture and accessories were placed in the room.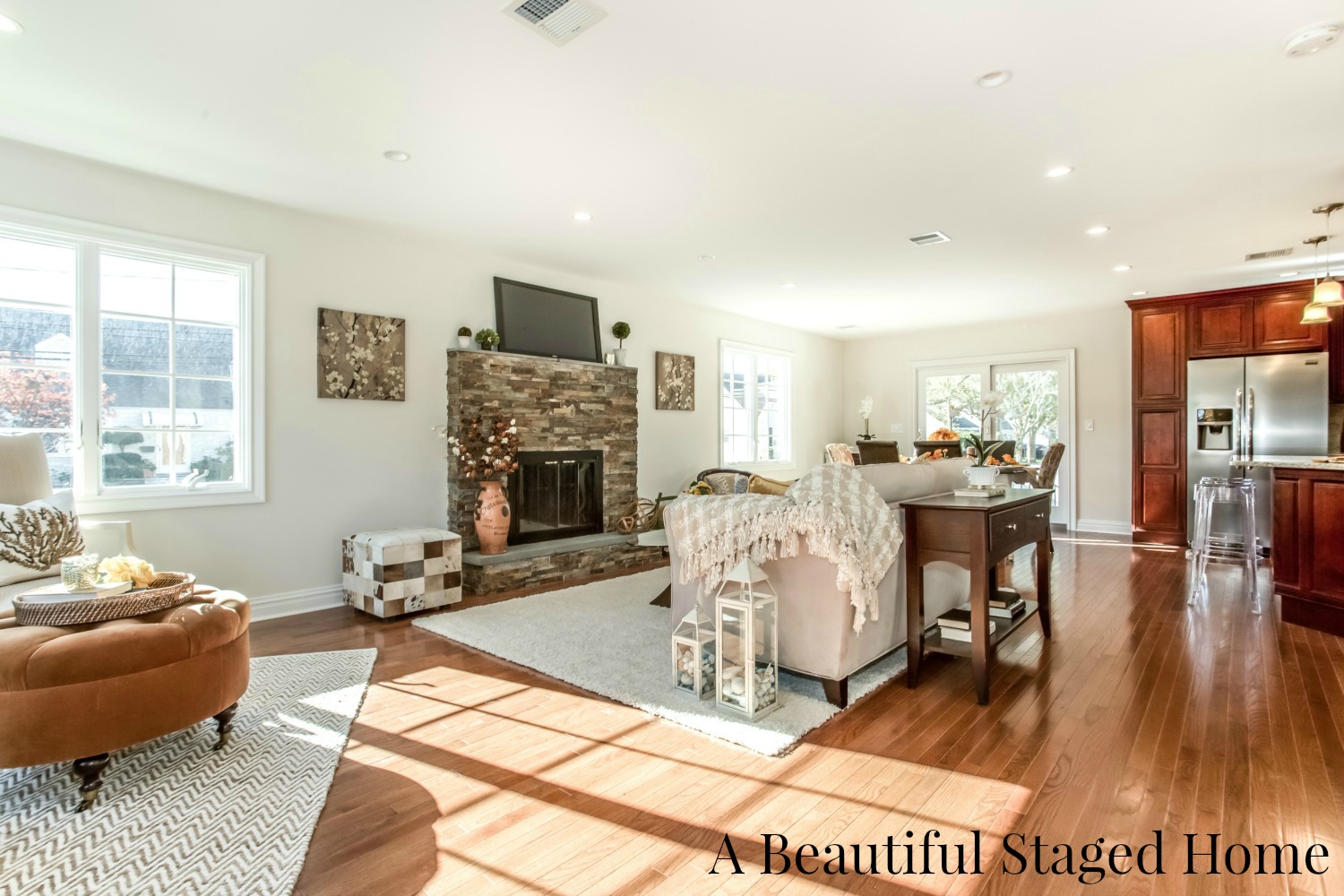 Adding the furniture, artwork and accessories really helped – but what an eyesore this fireplace would have been without adding the stacked stone!
NEWSFLASH – this home sold in a month!  Plus – it had several other less than wonderful attributes…
It was a little over-priced for the area
There was a concrete backyard…no grass
It wasn't in the desirable school district (which was a block or two from it!)
Neighbors have two yappy dogs which they let out way too often
Plus…a few other little things that I could enumerate. If they had left the fireplace "as is," heaven knows how long it would have taken to sell! A fireplace mantel is the focal point of most living rooms and great rooms – you have to make sure it's given its due by making it a special feature.
Before the investor relented and changed the brick to stacked stone – I had suggested a less expensive alternative – painting.
Here's a before and after of my blog friend, Leslie Stocker's, red brick fireplace…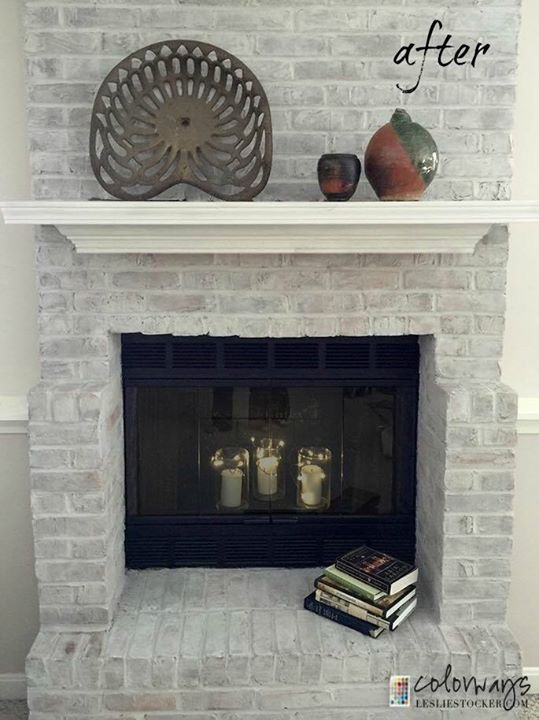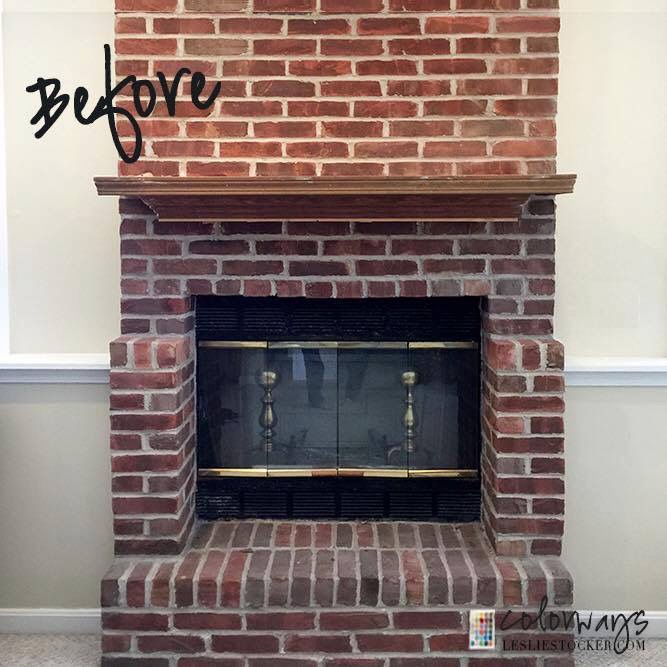 Via www.lesliestocker.com
What a huge difference!! By painting both the brick and the wooden mantel shelf – she updated her fireplace in a day. This is huge – not only for homeowners…but for home sellers on a budget. Notice she painted the brassy/gold parts of the fireplace door black, which updates it further. This needs to be done with heatproof paint. In my project, the door was spray painted with heatproof paint as well.
Another easy way to update your fireplace (when you don't have a mantel!) is to just use a mantel shelf – and accessories.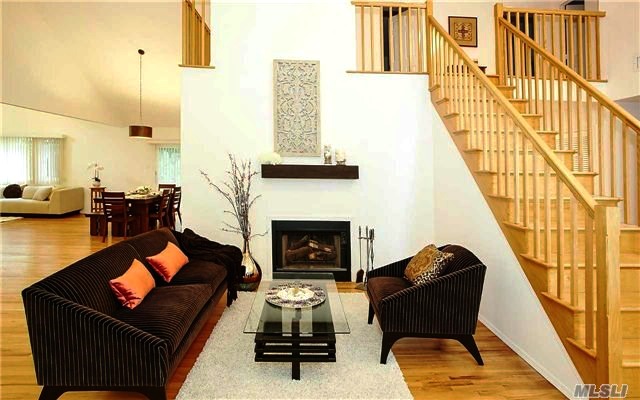 This was another home staging project that I did over the summer – where the home seller had completely ignored having a fireplace at all. There was just a firebox in the wall – that's it. So, I re-arranged her furniture, added a mantel shelf, art, accessories, an area rug, pillows etc – and now her living room looks like a wonderful place to sit down, relax and enjoy a cozy evening by the fire. You can see some before and afters and read more about that project here.
Home buyers are looking for their dream homes – you have to paint a picture for them. A fireplace is part of that dream for many prospective buyers, so if you have one…play it up…make it memorable. It will help you sell your house (even if you have some less desirable attributes!!
If you need help in making your fireplace look great, please contact me. I am a decorative artist also and have transformed many ugly features into beautiful designer pieces.
Happy selling!