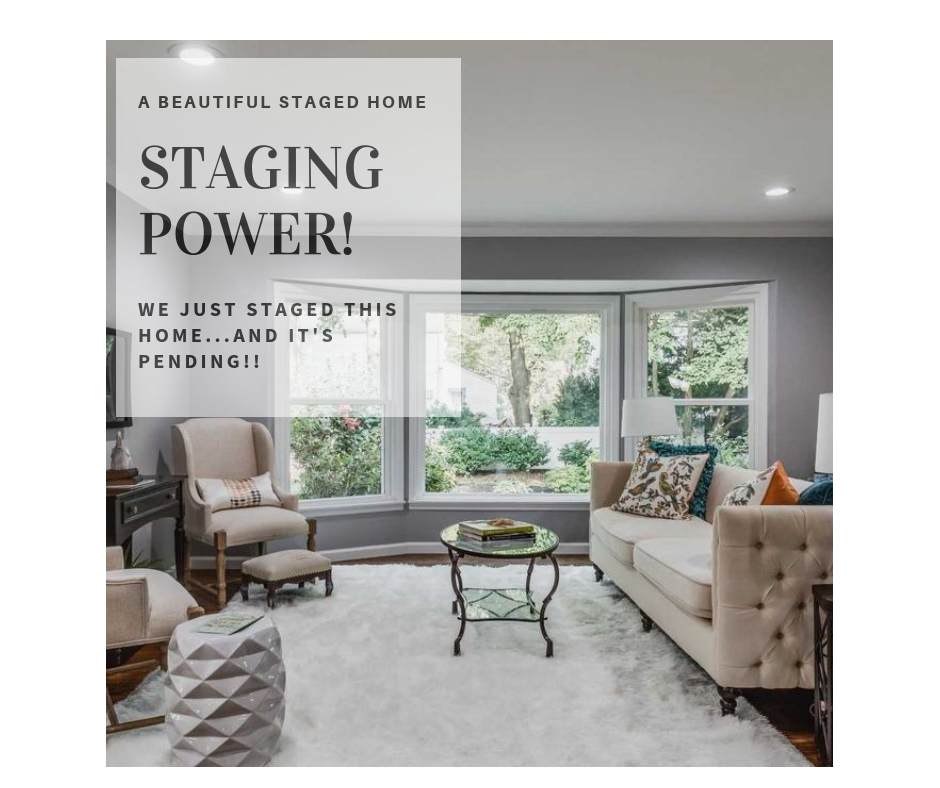 There are many realtors who feel that staging a new construction home isn't necessary. And then there are realtors who know that potential home buyers need to have an emotional connection to a home in order for them to make an offer. This was the case recently when we staged a lovingly renovated home in Roslyn Heights NY for realtor George Fiori of RealtyConnect USA.
Creating Different Zones in an Open Floor Plan
The layout was a little problematic – the living room was oddly L-shaped and it also contained a fireplace (that wasn't in the center of this space either!) and it blended into a dining room space. Open Concept plans are all the rage right now…but guess what? No one knows how to decorate them! When buyers scratch their heads trying to figure out where to place their furniture in an Open Concept Plan – they usually don't make an offer on the house.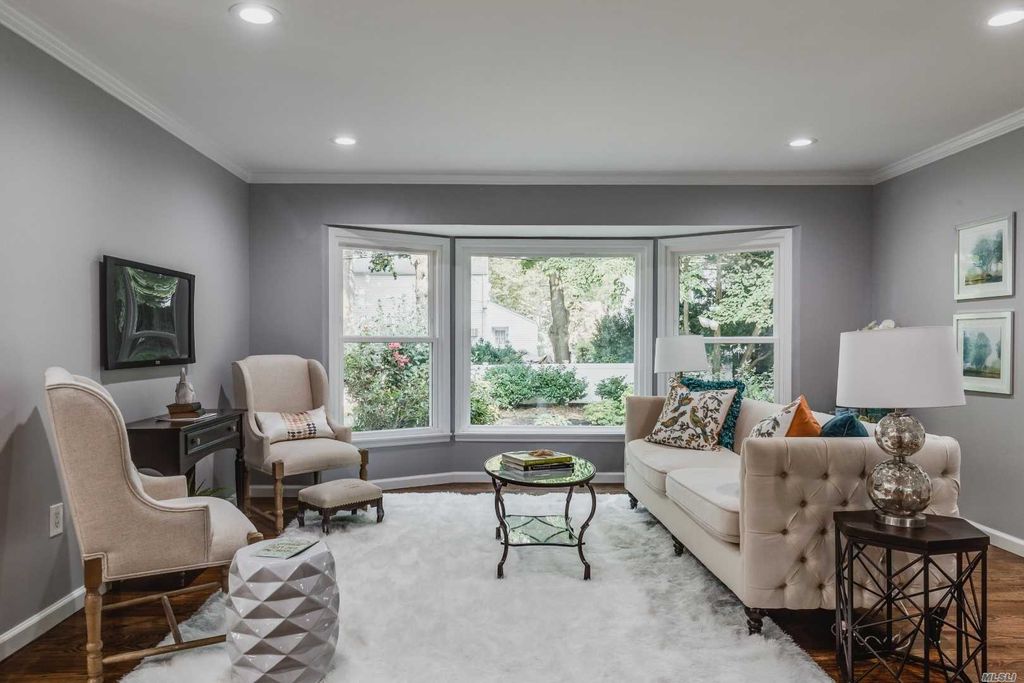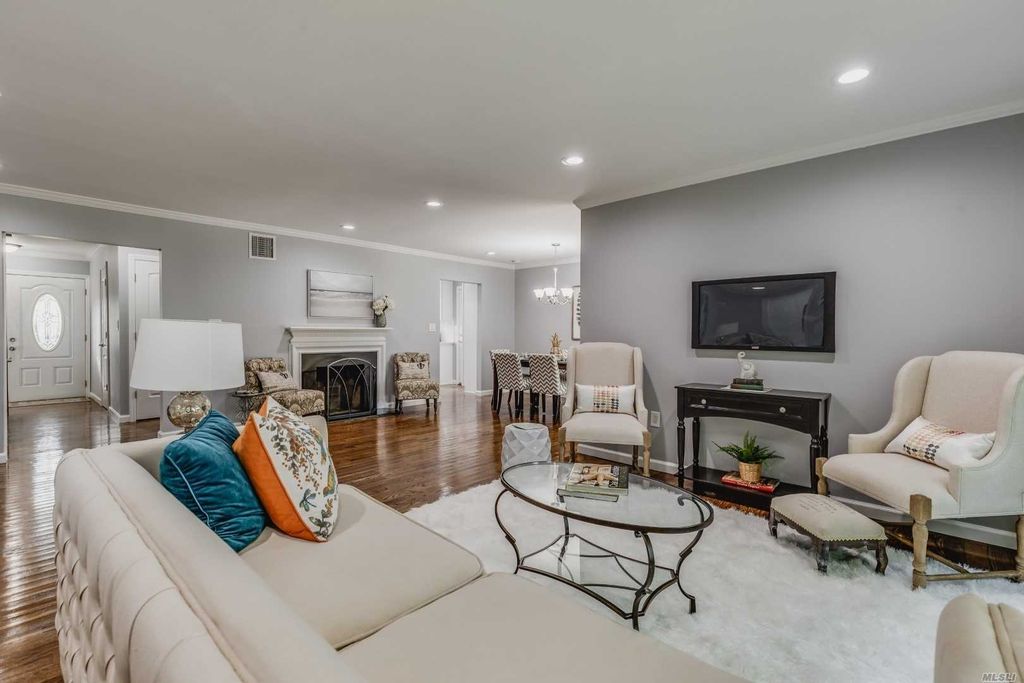 If you notice – the fireplace, which usually is a focal point in a space – is a bit far away from the living room area. By flanking two chairs on either side – I created a little reading and relaxing area.  Then I created the "Living Room/TV watching area" in the back of the house Each space has a separate function.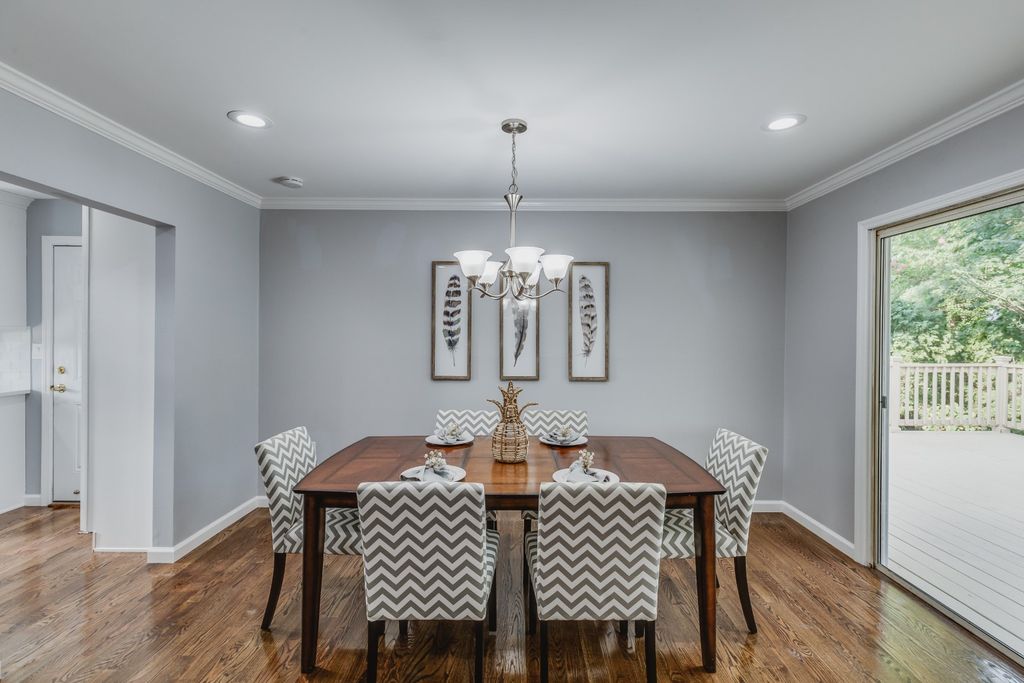 The dining area needed to show ample seating. I used 6 chairs but there's "breathing room" in the space, showing that more can be seated for holiday gatherings.
Highlighting the Key Assets in Your Home
One of the great features in this home, but one that needed some definition, was an extra Master Bedroom. The first floor Master had an adjoining bathroom – so this could be the Master but it also could be a guest room or a mother-in-law bedroom. Leaving it empty would not help a buyer to figure out what to do with this space. I made both bedrooms soft and inviting, so the buyer could make up their mind which one they wanted to make as the Master Bedroom. The en suite bath had a safety bar in the bathroom – so it made some sense to me that this should be an aging parent/ mother-in-law suite or even a "returning to the nest" young adult.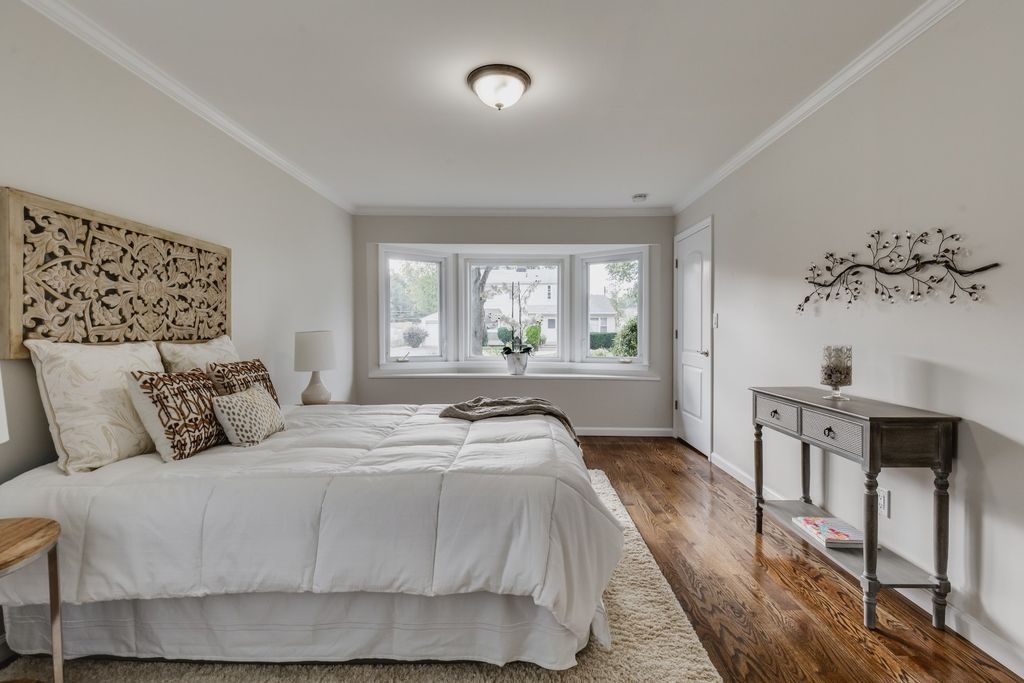 The 3 other bedrooms were upstairs…including the other Master Bedroom, below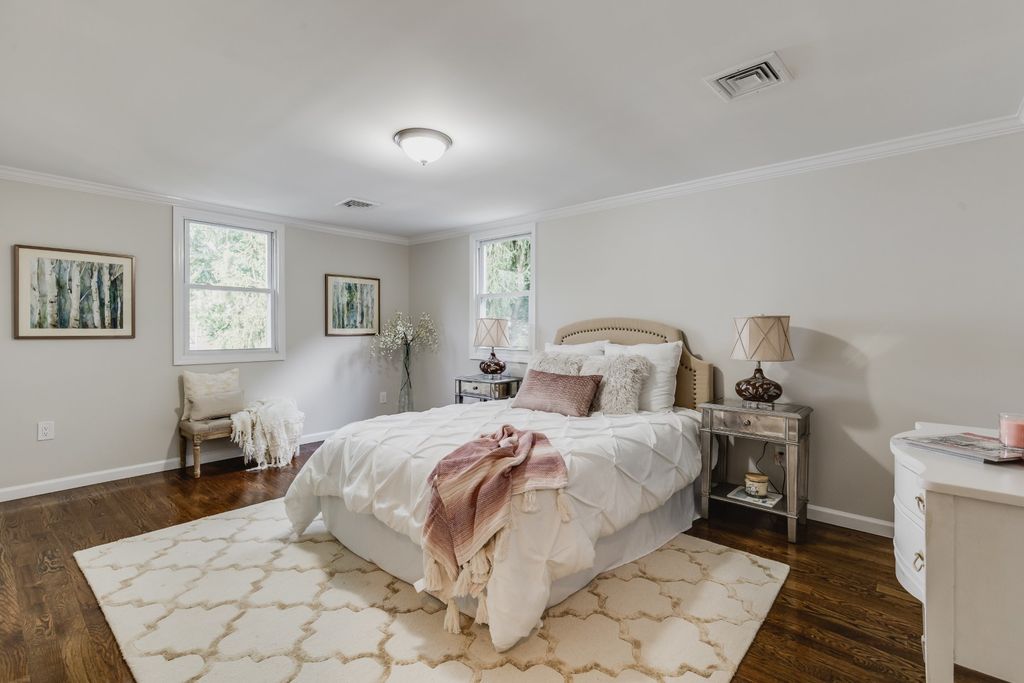 The 2nd Master Bedroom was upstairs and a very nice-sized bedroom. I kept it simple, yet romantic – with soft colors, plush white bedding, mirrored nightstands and white furnishings. It didn't have a Master Bath – but the upstairs bath was lovely! See below…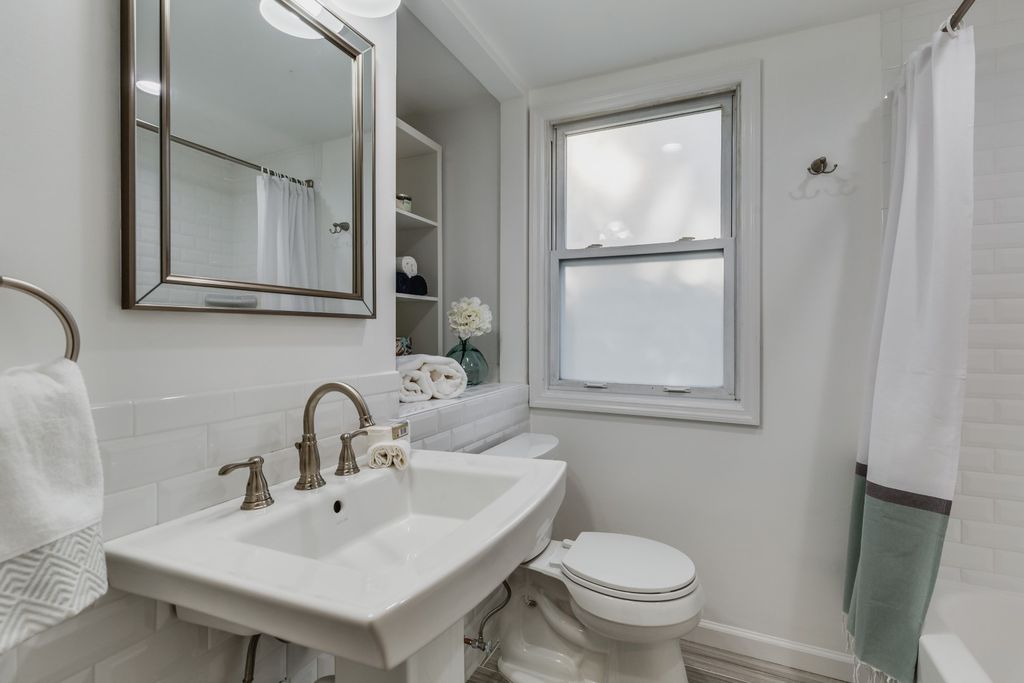 The other 2 bedrooms upstairs were quite small. As an expert stager on Long Island, I can tell you that even in small bedrooms… you want to show livability and function. Part of my job as a stager is to make smaller spaces seem more spacious and functional. You don't want a potential buyer to come away wondering whether or not they can fit their children's bed and furniture in a room. No matter how small – the function has to be there…and be visible!!! An empty room doesn't tell them anything about that!
The smallest of rooms need staging – and it should appeal to the littlest person!
The other bedroom, below, was a bit bigger but it needed to show "larger," more functional…and FUN! I staged it as an older girl's bedroom – with teal accents.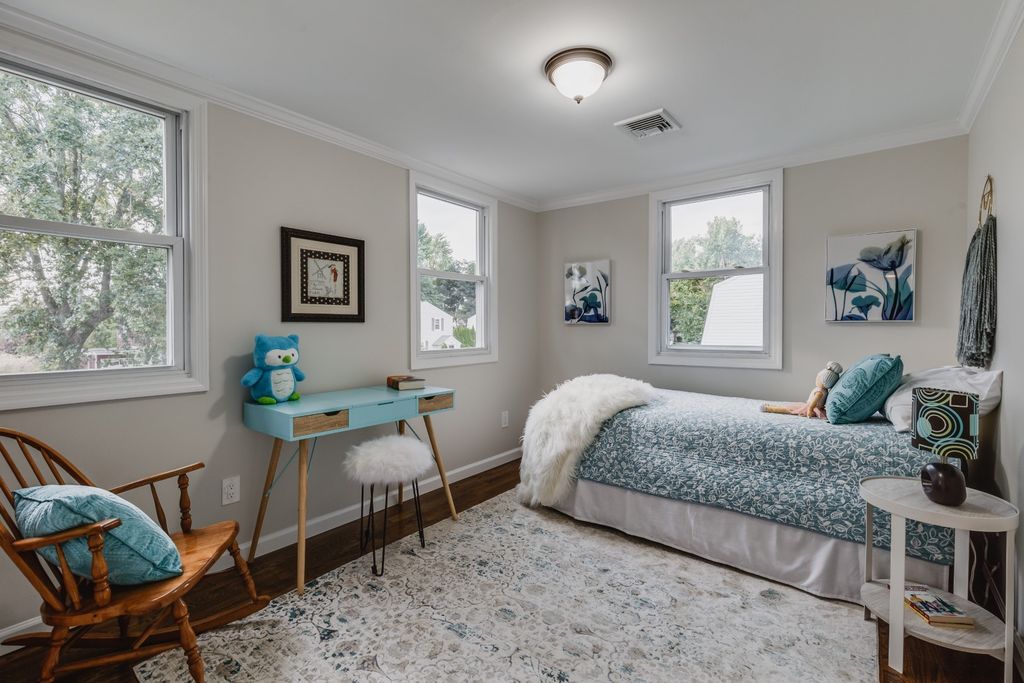 The Kitchen: Every Detail…was a Buyer Magnet
Going back downstairs – the kitchen was done beautifully with white cabinetry and countertops, glass subway tile and stainless steel appliances (and a fabulous gas stove!!)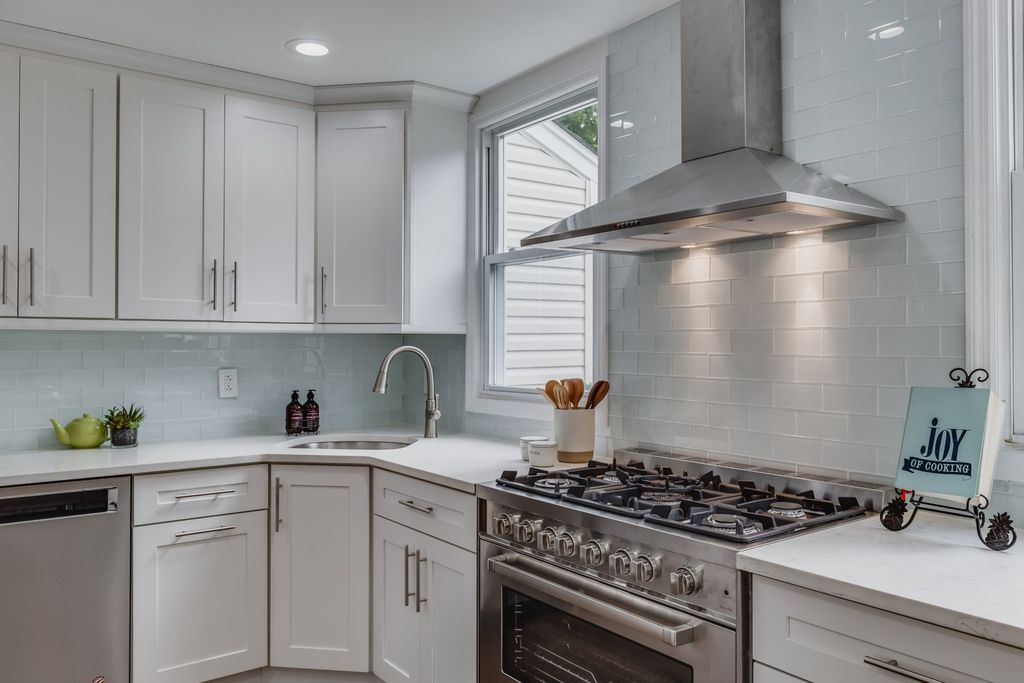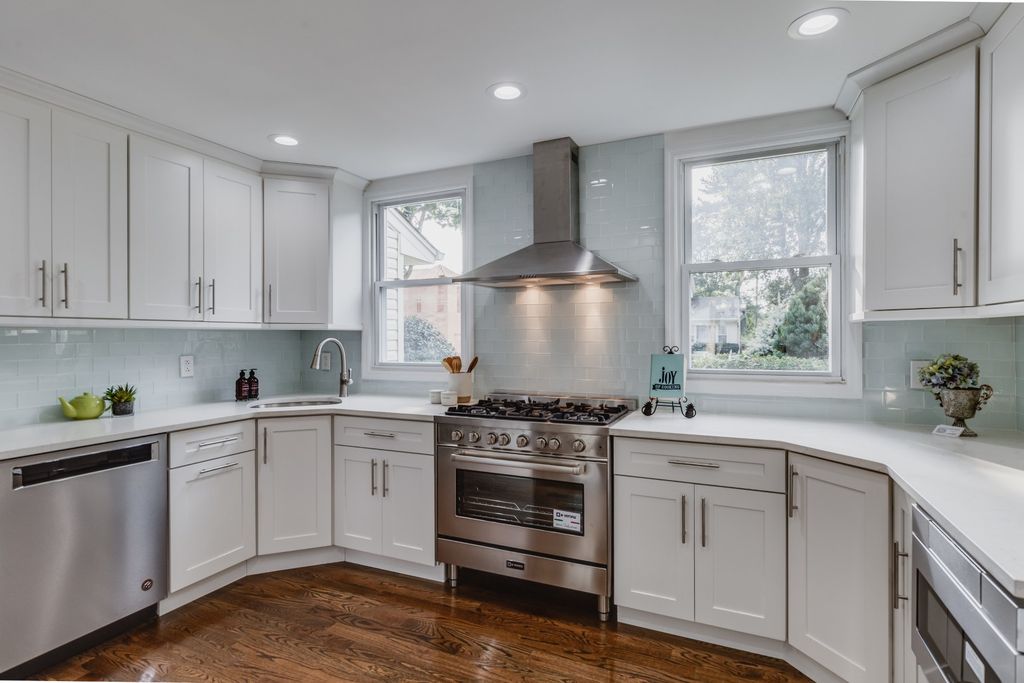 The first floor also had a bonus space – I staged it as an office. If it was left empty, perhaps buyers wouldn't know how to use it. I know that many people work from home – or they need a space to pay bills and use their laptops, so it made sense to me to add an office. In fact, I used a large vertical piece of art that I created – with the Eiffel Tower – behind the desk. Who knew that the couple (who made the offer and have now signed the contract) met in Paris and they felt that this was an omen…a sign that they should make an offer on the house!  They were in love with the rest of the house…and the neighborhood – but this piece of art  prompted an offerl!!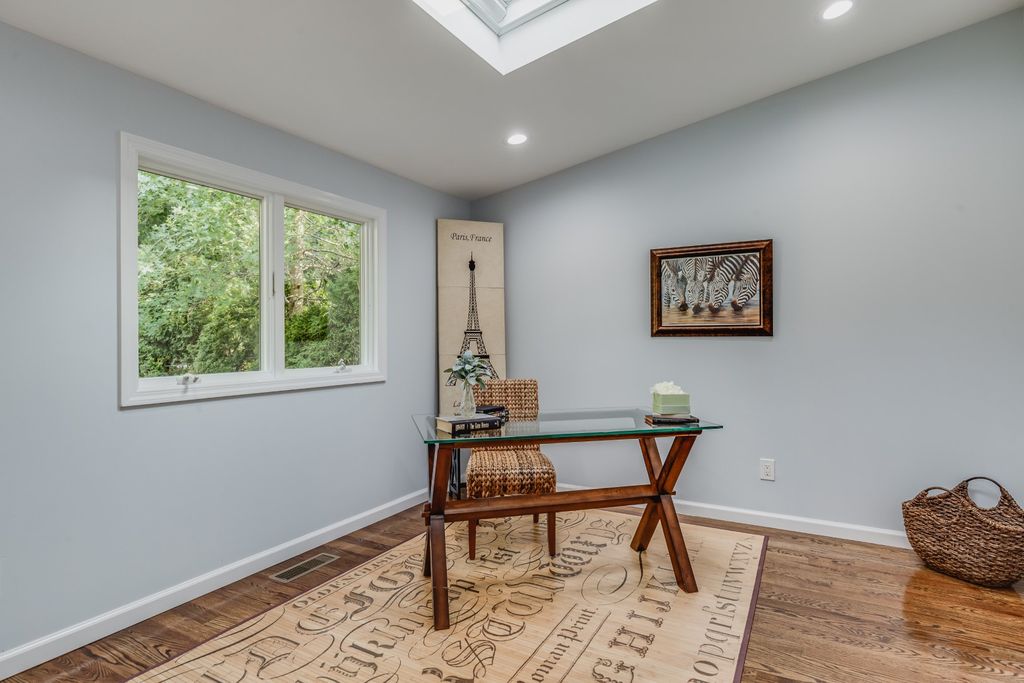 I hope you enjoyed the little tour of this home.  If you'd like to get similar results for your home or listing, call me at 631 793-1315 or email me at [email protected]
Staging can help overcome awkward floor plan, cold and vacant spaces, bad color choices and more – give it a try!!!